Welcome back to Facades World, today we will share a simple copy, it is about design of a small one-story house. In this new entry you will also find its elevations, plans and a 3D image to better enjoy everything that the house includes ... let's start!
Small one-story house, elevations, plans and 3D image
We will analyze the plans of a small house of a floor with a modern facade which has as concrete building materials and wood applied harmoniously to the whole. In order to visualize the interior spaces, a plan is also shown in 3D as well as the elevations of its four fronts.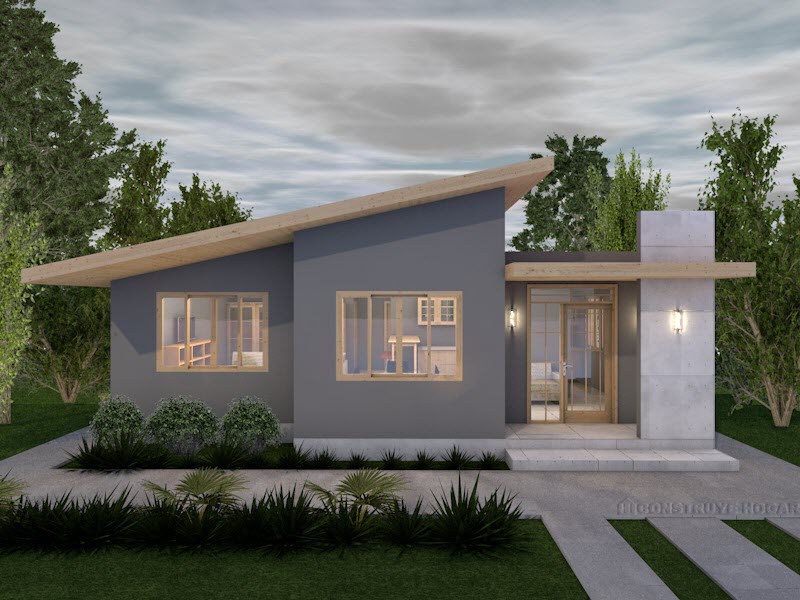 The little house has a modern facade with sloping roof In a water that hierarchizes the social spaces it contains, the main entrance portico is made up of a frontal concrete wall that intersects with the overhang of the roof. The rhythm of both the sloped and horizontal ceilings contribute to the line of the design.
It can be used as alternatives of building materials in facade the stone or wood to be applied on the porch wall as well as on the skirting boards around the house.
Floor plan of the small one-story house
Plan of the small house It has two bedrooms located at the back of the plot, a large dining room and linear kitchen; immediately after the main entrance is the entrance hall or vestibule from which it is possible to enter both the social environments and the kitchen.
This distribution of environments is versatile since it allows us to even build a second level to add more rooms, the ladder It could be placed in the area between the living room and the children's bedroom.
Another possibility is to build the one-story house with a boundary and leave a space for circulation and ventilation by only one side of approximately 1.20 meters wide.
Plan of house in 3D
Elevation plans for the one-story house
From Facades World We hope and wish that this new entry will be of great help and as always, we encourage you to trigger a remodeling in their respective homes. Remember that you can follow us in Facebook, Pinterest y Google +, we are reunited very soon.
Regards!