We return once again in Facades World with a new entry, today he touches a modern L-shaped house which we will find located in the city of Madrid, Spain. We will also see how this construction has a glass facade and some unique interiors with a pool included… Are you going to miss it? We start!
Modern L-shaped house + Glazed facade
With an important and striking position and orientation, this Modern house with L shape shows interesting finishes and fully functional spaces. The project of this single family construction is bounded by two glass facades and really open. An excellent idea to make the most of natural light and views of the garden.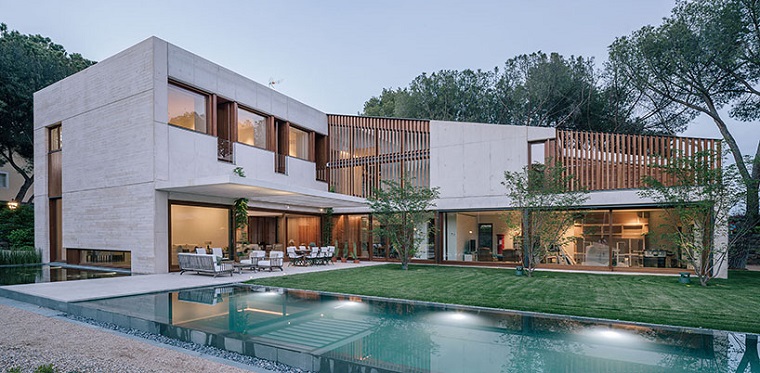 Despite this glazed finish, the structure of this modern design house It is visually protected with a porch and a pergola to enjoy direct sunlight. Another interesting detail that we will find in this house with facade in L is that its forms have a greater height on the northwest volume, just in the interior part of the house where we will find situated the area of ​​the living room, the dining room and the kitchen (which you will be able to appreciate in the images of the plans).
As expected, these spaces need a higher ceiling height, which makes the first floor, where the bedrooms for children, rises with respect to the northeast wing. The difference can best be appreciated within the rooms. The design of DL + A (study in charge of the project) tries to integrate with the environment, which was achieved in a very fluid way.
House plans with L shape
From Facades World, as always, we hope that this new copy of modern house It is a great help and can generate ideas of all kinds to start a remodeling in their respective homes. Remember to follow us on Facebook, Pinterest y Google +, we are reunited again very soon.
Regards!