Today Facades World we will share with you facades of modern 3-story houses, a specific design that we are sure will help all our readers, especially those who leave us feedback on YOUTUBE. So, if you are interested, do not move from the screen because we are starting right now.
Modern 3 Story House Facades - What do you think of this design?
Today we will analyze not only facades of modern 3-story houses, but also the blueprints of it. A facade that undoubtedly stands out from the rest of neighboring houses, and a construction that will help you if you are looking for a unique and spacious design, with interior spaces well lit ... Let's see.
If we look closely, the frontal plane seems to have been cut diagonally in one of its parts. You will wonder why, well, very simple, in that space you will find the stairs. Passing the perimeter fence of the house we will see a naturally lit basement thanks to the design, in which we will find a front window.
Construction details of the stairs
The entrance to the vertical circulation is through a large glass door in the shape of a truncated pyramid that also allows better illumination of this vertical space. Following this link you can find more stair designs if you're interested.
Modern 3-story house façade mockup
The mockup of this modern 3 story house can better guide you to start building a house of these characteristics, so pay close attention to the images that you will see now.
In the model we can see in detail the sloping walls on the left side of the house. This allows you to have a modern look and not lose functionality in your interior spaces.
Modern 3 story house plans
The basement includes a room to watch television or multimedia (1), bedroom guest (2), bathroom (5), laundry (6); As we have seen in the photos of the façade, the multimedia room is properly lit despite being located in the basement.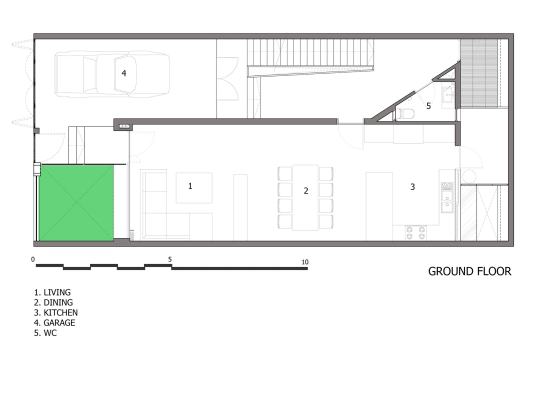 The first floor of the house has been allocated to the social area, we have a large open space (although it only has an area of ​​104 m²) where the living room, dining room and kitchen are included (1,2,3) , garage (4) and the area of ​​the stairs that lead us to the roof.
On the second floor are the children's bedrooms (1) and a central study room (2), here we can see the design of a skylight (in front of the study) which allows adequate lighting of the interior environments.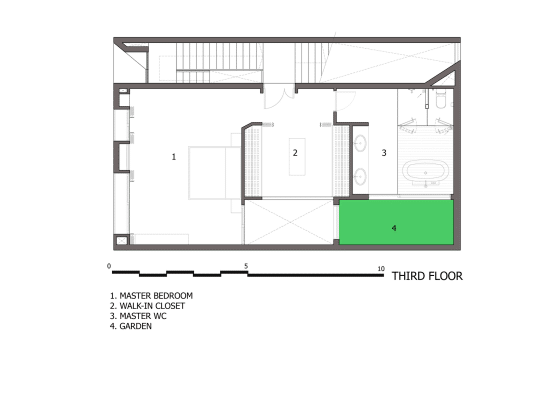 On the third floor is the master bedroom occupying a large area, in the center (2) a walking closet and a complete bathroom with tub.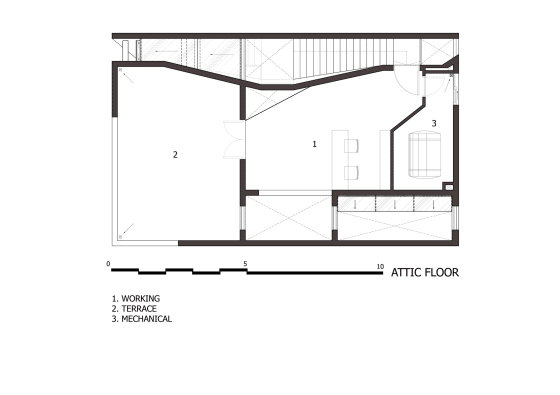 On the roof there is the machine room, a workshop and the terrace (2) located in the front part.
Join Facades World! 🙂
Follow Facades World on Facebook | Pinterest | Youtube
Regards!