Today Facades World We will touch on an important issue in order to give our readers a new panorama in construction, it is about the use of pervious concrete in the construction and its rapid absorption of water. Do not miss what we will show next ... we started!
Permeable concrete and its use in construction
Although there are currently several types of permeable concrete, a company that claims to have evolved the binder has been able to "absorb 4 thousand liters of water in just sixty seconds" in addition to providing it with greater resistance, let's see the demonstration in the following video:
The needs of the use of permeable concrete They are increasing, currently we will see its use in streets of new developments and also in parks or squares, but its use is spreading to populations that are located near the sea, rivers or areas that have rainy or torrential climates.
In order for the permeabilization system to function correctly, the following conditions must be met:
High porosity: normally between the 15 and the 20% to allow the water to pass directly to the lower layers of the soil.
A system of channels drain to allow fluid to be absorbed more quickly increasing the effectiveness of pervious concrete.
Resistance, being this one of the possible points to improve, the company Topmix Permeable assures to have improved the resistance being able to support the transit of the vehicles without problems.
In the construction section, to get a permeable or porous concrete, sand is not usually used in the mixture in order to reach the necessary porosity, it is simply used as a binder for portland cement and coarse aggregate, achieving a weight that oscillates around 70% than the concrete prepared in a conventional way.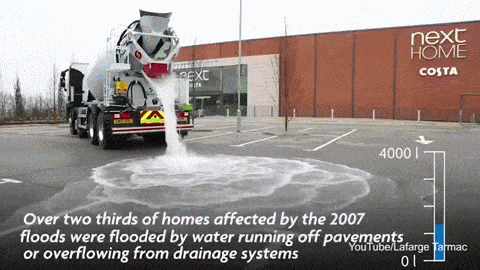 Permeable concrete: possible future in construction, we show you its characteristics
-It is ecological: it achieves the restoration of aquifers by allowing the water to follow its normal course towards the subsoil.
-It's economic: by preventing the water from stagnating and damaging the pavements, thus saving future repairs. It would also allow the normal development of economic activities without paralysis due to floods.
-It is anti-pollution: it would diminish considerably the centers of infection caused by the stagnant waters, in countries with rainy and warm climates it would improve the quality of life of its inhabitants.
As you already know, you can find Facades World en Facebook, Pinterest y Google +. As always, we hope that this new entry has been of great help to you and that you can learn a little more about this new construction material. We will meet again soon ...
Regards!