Today Facades World we thought that it would be a good option to analyze a design of modern U-shaped house, since on many occasions many of our readers have requested articles of this magnitude, and surely they feel more than identified with said design due to its disposition. So we will start immediately… here we go!
Modern U-shaped house
In the main hall of the design of this U-shaped house We will find the living room, dining room and kitchen located, which make up the main axis of the construction. In front of it there is a pool, both spaces are fully integrated through large screens, let's start with the images so you can appreciate it.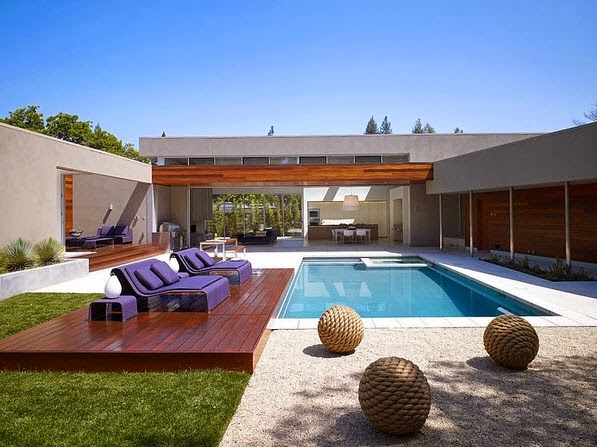 The house has a design of straight lines that "ties" the whole set, the main room has a hierarchical space with a higher ceiling than the entire construction. One of the characteristics of the house is that it maintains the open spaces oriented towards the pool, the natural environment full of trees is the ideal setting for the design of the U-shaped house.
Both floors and walls are neutral in color, the color of the wood ceiling in the main living room of the house stands out, even at night with the lights on, a interior design for one-story house that gives warmth to the construction and also undoubtedly creates a very original atmosphere.
We hope you enjoyed this new issue. Since Facades World We wish you a great week, and we will meet again soon. Remember that you can continue adding users to this great community through Facebook, Pinterest y Google +, our social networks in constant use.
Regards!