The small garden decorating ideas they can be infinite to tell the truth, more than anything because each person is a world and can have different occurrences. However, to us in Facades World we like to know those crazy or not so crazy ideas that some users have, and that is why today we are going to share and chat a little about it. So, do not move from the screen because we already started.
Decorating a small garden is quite a challenge, a challenge that we can carry out with creativity and good planning. Either with pictures of home gardensthe small garden decorating ideas, Below we will talk about different ways, ways and tips to achieve great results in this place in your home.
Small Garden Decorating Ideas – Problems?
Well, first of all, we have to get out of our heads that making or creating small gardens is impossible, because honestly it's the opposite. Small gardens can have several advantages, so here are some to convince you a little more:
Easy maintenance: being small we will not need gardening machinery for its maintenance, the time you invest in it is less.
More economical: in theory they are cheaper because they need less furniture, fewer plants, etc. Of course, this is relative and depends on your tastes and pocket.
More welcoming: small gardens can become authentic refuges. Charming, welcoming and very peaceful places.
With this list you can begin to realize that small gardens and their decoration are not a problem, but rather a perfect opportunity to create the garden of our dreams... Let your imagination run wild!
Idea #1 – Plan the distribution
Decorating a small garden supposes a very well planned distribution. Having so few m² it is very important to be clear about where everything goes. For this reason, we advise you to distinguish between various environments, although it seems impossible to do so because of how small it may be. With the small garden decorating ideas that we are already giving you, you will be able to decide where to place the plants, either in a single place or around the entire garden.
Also decide where the living area will be, that is, where you can rest or spend time with friends or family when they visit you. We leave you some example images so that you can familiarize yourself… Let's see.
Idea #2 – The furniture
What would gardens be without their place to be?
Well, as you will understand, one of the objectives of the gardens is that you can spend time in them, that is why it is essential to create an area in which we feel comfortable. Due to the limited space we will not be able to put a huge sofa, but we will be able to find alternatives that convince us.
For example, folding tables and chairs, poufs that act as a centerpiece but also as an extra chair, or even a floating hammock can also be a good idea.
It is yes, you must make sure that the material of the furniture is resistant to the outside, or that you can cover them so that they do not have major damages with the sun, rain, etc.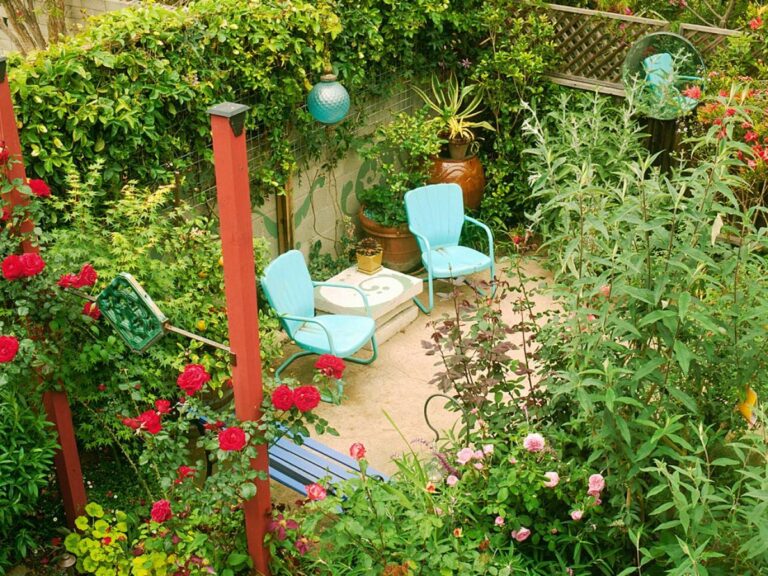 Idea #3 – A bit of verticality
One of the best ideas for decorating small gardens is to make use of verticality, which consists of placing the plants vertically instead of horizontally. In this way you can have more plants without having more space. The ways to use verticality are:
Crea vertical gardens: use pallets, hanging mason jars or DIY planters that hang or can be attached to the wall.
Seedbeds at various levels: form "stairs" of seedbeds. This way you maximize space.
Pots inside others: This idea is very creative and consists of making a composition of pots with different plants. For example, if you have a large pot but it has broken, you can use it for this. You simply have to fit other smaller pots and fill with soil.
Another way to do it is with a large pot, you fill it with soil and put a smaller one on top and so on. The inconvenient is that you can only place plants in the soil that is around the pot that follows.
Idea #4 – Add depth
The optical effect of mirrors to enlarge spaces is well known, so why not use this resource in the garden. The mirror will look like a door or window opening onto another garden, giving you a spectacular open space feel. You can use old, cheap mirrors, you don't have to spend a lot of money.
We would like to read you in comments and know how you did with these ideas to decorate small gardens. From Facades World We encourage you to decorate your small garden with things that make you happy, we also encourage you to enjoy the process and put all your creativity into it.
Join Facades World! 🙂
Follow Facades World on Facebook | Pinterest | Youtube
Regards!