On the day of the date here in Facades World let's analyze the blueprints and interior design of a beautiful and modern house with three independent floors thanks to a lateral communication, discover how to separate each floor efficiently, being able to have more than one apartment per floor. We start!
Modern three-storey facade design
We will find a modern concrete facade design, with large matching windows and a spectacular and unique carpentry. A modern three-story construction in which we can use your first plant as an enterprise to develop a workshop or business of our liking or need, and we can also maintain a good interior breadth by achieving an efficient separation of the three plants.
Interior design for three-story house
The interior design is minimalist, the wood has been combined in color to cover some ceilings and floors and the walls in white, the entrance of abundant natural light through the large front and side windows allows to have a bright interior thus giving a sensation of exquisite spaciousness.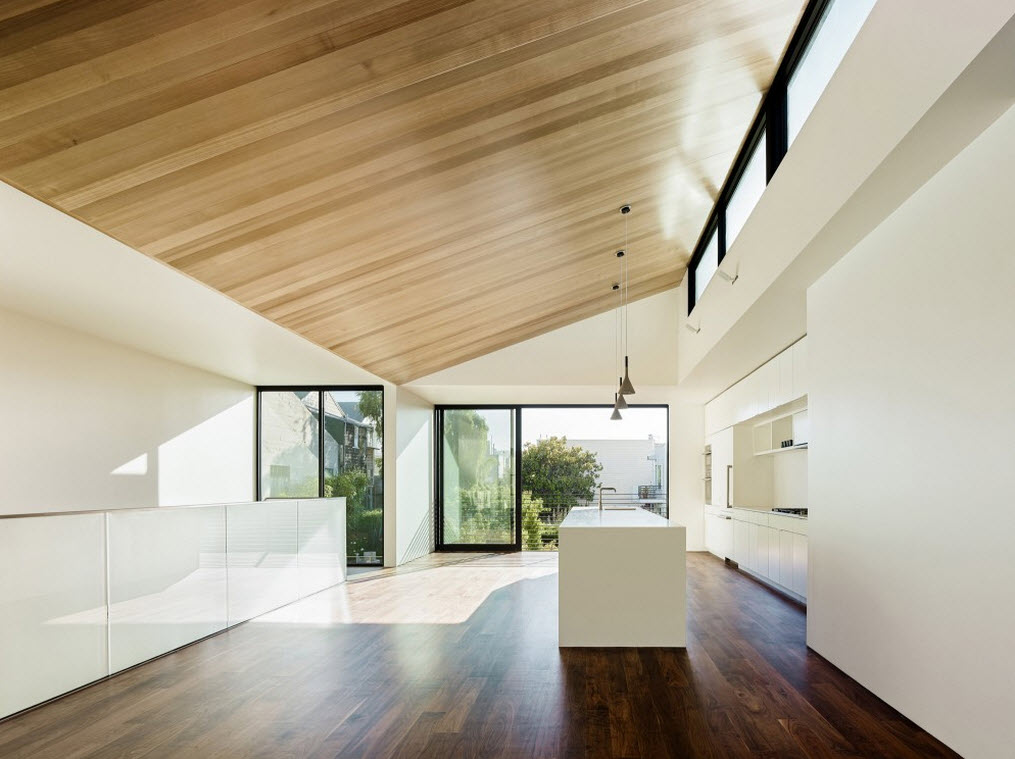 For Design ideas and interior decoration, remember that in Facades World We have our specific section where you will find many unique ideas and decorations to take into account and use in your respective homes.
Plans of the three-story house
In the front part of the first floor the garage (01) has been designed (it could be a workshop or a business), a living room (05) and a small kitchen (04), bedroom (03) and bathroom, it is ideal for be inhabited by a couple or as a mini apartment.
The main access is on a side where the stairs that communicate with the second and third floors are also located.
On the second floor as we see is completely independent from the rest of the rest of the house we have three bedrooms (03) each has bathroom (04) included and closets (05); the second floor is linked to the third because the social area is on that floor.
The third floor is a single volume that has room (01), dining room (02), kitchen (03) and bathroom (04), as we mentioned the third floor is complementary to the second level, but making small changes could be converted in independent of this form three departments would be obtained.
As you already know, for more ideas you can browse freely through Facades World, be free to use our specific advanced search (one of the only ones on the web), to find what they are looking for. Remember that you can be a part of our Social Networks Facebook, Pinterest y Google +. For now, we meet again in our next installment ...
Regards!