Welcome to Facades World again, today in our daily issue we offer you small house plans with the possibility of extension. A proposal that will be of great help if you are thinking of doing a home remodeling or for possible jobs that are to be done. We invite you to be part of this new installment, and we begin this way ...
Construction system with concrete bricks
The facade exposes the construction material such as concrete brick and metallic materials applied to stairs and window frames. It has a harmonious set of volumes that are repeated by modules. A facade of house with exposed brick, with the difference that on this occasion the material of the brick is concrete.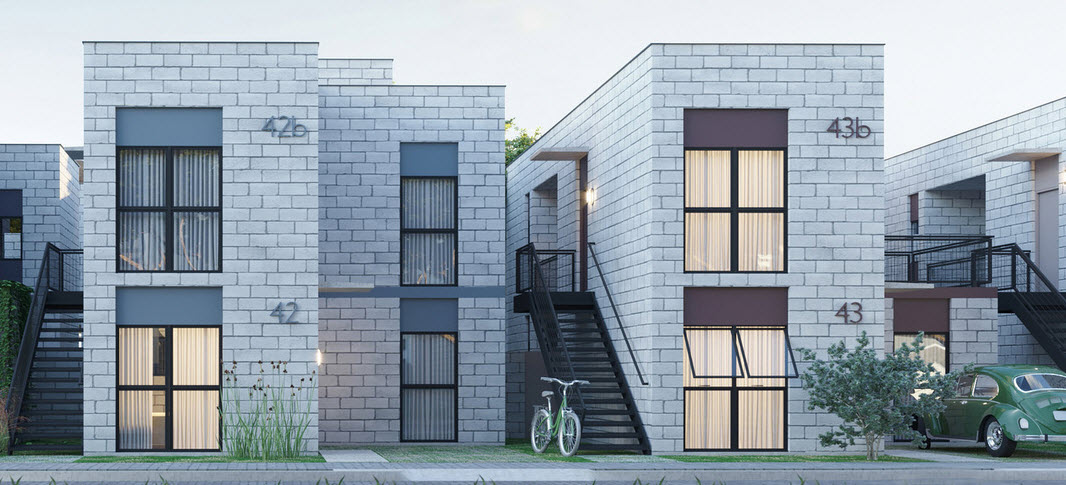 Plans of houses of one and two floors, possibility of extension
According to family growth, these plans of houses of one and two floors they will show you the result of one of the proposals of winning single-family homes of the CODHAB-DF competition, belonging to departments and duplexes.
This type of construction can enter and cover the need of several of our readers who ask us 10 × 10 house plans, facades of houses 8 × 15, facades of houses 6 × 15, among others. Referring to the images that you will see below, it is possible to build two bedrooms that are illuminated by interior garden patios, the free space that is in the central right part of the plan (ground floor) can be built later when the family grows.
The zoning of the room that is surrounded by free spaces stands out, which makes it possible to better direct the visuals and have better natural lighting. The small kitchen is linear in shape and is located in the central part of the building, which allows it to fulfill its function between the social and intimate area of ​​the house. On the left side, the stairs of a single section have been designed that reach the social area of ​​the second level.
On top of this floor plan of modern one-story house we found a typical plant and completely independent, as detail we can see that at this level the service area is roofed, but it is fully functional as a laundry area - drying rack since it is ventilated by one of its sides that is open, has varanda of protection.
Cutting and lifting plans
In cutting and lifting plans for small house we can appreciate the constructive system with concrete bricks and roofs in the upper floor of fiber cement tiles (see cutting plan AA and BB) that allow waterproofing the house, this is important in buildings with rainy climates, thus achieving an economic house and little maintenance
Remember to follow Facades World in their social networks. there we will keep you updated continuously and daily with the latest in architecture and interior design.
You will find everything in Facebook, Pinterest y Google +. We are in our next installment ...
Regards!