Whenever we have small spaces, we can make maximum use of it. The bathroom is no exception, and it is very common in new constructions to save space in all rooms of the house. So, if you are interested in some ideas of modern small bathrooms 2022 do not move because you are in the right place.
Today we will show you some tips and also images of small simple bathrooms so that you can make this space a pleasant, comfortable place, taking advantage of every centimeter of surface and, furthermore, so that you can create the optical illusion of greater amplitude. You will achieve all this by following certain criteria and parameters so that it can look modern, elegant, and above all, functional... Let's see.
Modern small bathrooms 2022
One of the main things to define is the choice of the elements that will give life to the walls, furniture or accessories, as well as the colors that you will use in the decoration. So let's go party, fasten that belt because the ideas for modern bathrooms...
1. Floors and walls for small bathrooms
2022 promise to bring a lot of personality with texture, color and accessories. Colorful wallpaper, stylish furniture and graphic patterns on tiles that will turn the bathroom in a mini sanctuary. Whether you're planning a renovation or just want some decorating inspiration, here are some stylish trends.
Rear wall and floor
Using a backsplash and floor covering that is different from the other walls can create the optical illusion of depth and more space.
mediterranean tiles
The mediterranean style tiles, of encaustic cement, are booming. They're making a huge comeback, and if you're a fan of intricate Moroccan designs or modern geometric shapes, now is a great time to use them.
Subway tiles
combine tiles
With the combination of various types of tiles you can achieve a totally personalized bathroom. Try to use a monochrome palette for a nice visual impact and play around with subway, hexagon and square tiles.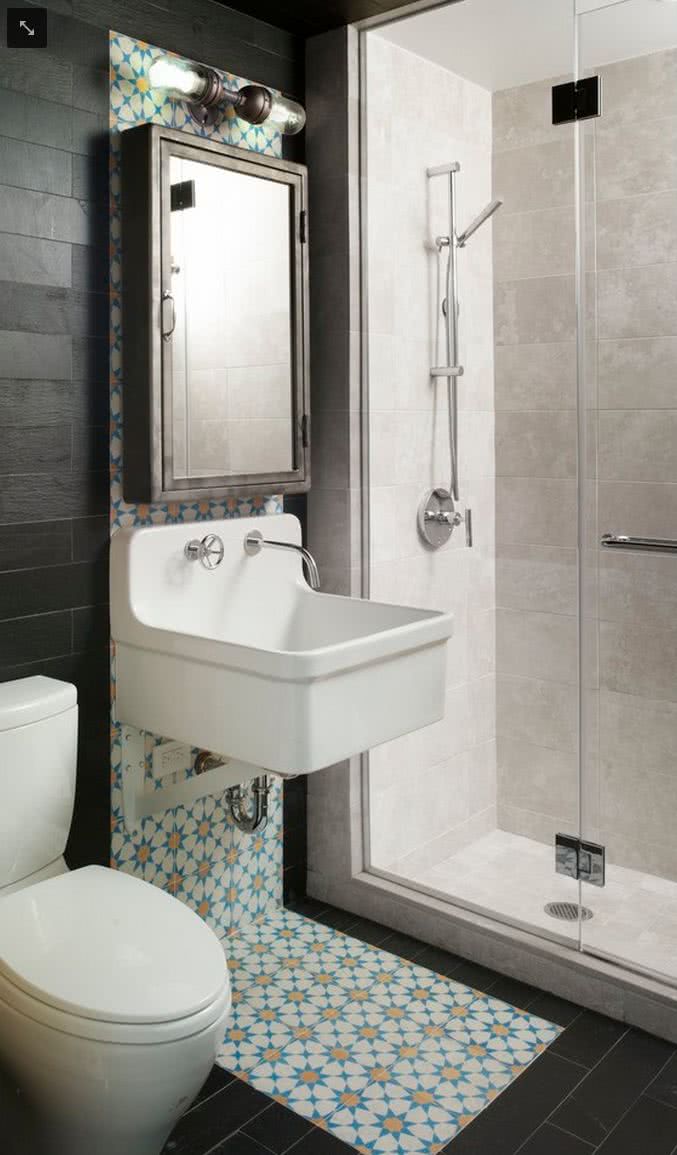 2. Furniture for small bathrooms
dark colored cabinets
Dark cabinets first entered kitchens, and now they are starting to trend to be used in the bathroom. Navy blue and sheer black are going to be the hues for this year, bold hues that look stunning with gold hardware or white countertops.
Open shelves
Making good use of space, you can use open shelving for bathroom. So you can store anything, that will help your bathroom improve functionally speaking. Take advantage of every inch of the wall and try to place the shelves that you really need, not just to decorate.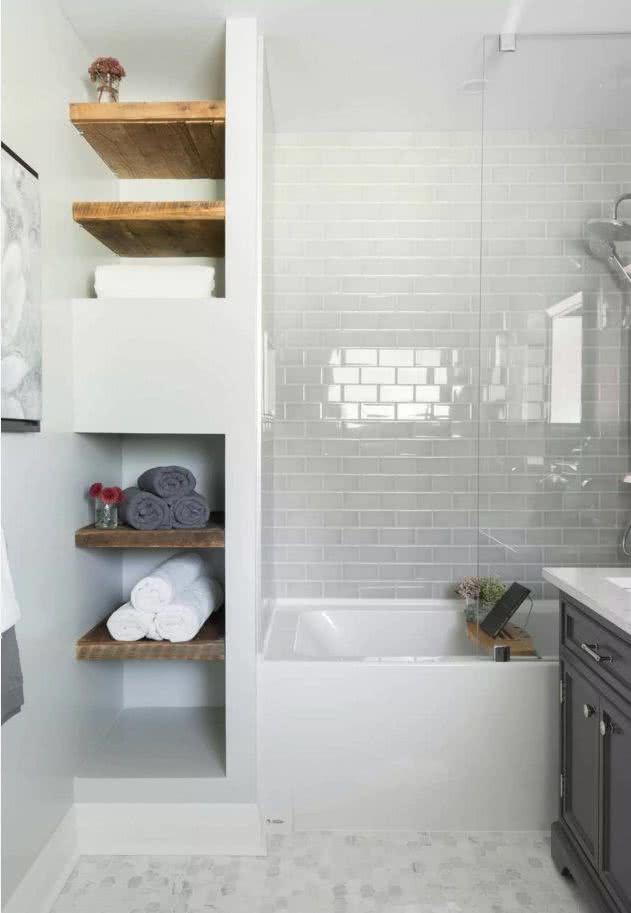 minimalist cabinets
A point that is essential in modern small bathrooms 2022 It is the incorporation of a minimum amount of furniture, so we are going to allow good circulation and a broader view of the floor, the walls, and the space in general.
Also, for a contemporary look, we advise you to use minimalist furniture, with lines of simple designs. This will also help create a space that appears larger to the eyes of others, as furniture and accessories overloaded with details tend to create a zooming effect.
3. Accessories for small bathrooms
Bathroom Sinks
The sink in our bathroom should not be large, but as small and classic as possible. Although it often has storage space, we recommend those that do not, in order to create a small bathroom.
If we talk about a bathroom which is not tiny, then if a cabinet under the sink is an excellent option to keep everything tidy and in place. Remember that it is advisable that the bathroom looks as clean and uncluttered as possible so as not to create a feeling of being overwhelmed.
taps on the wall
The small bathrooms they can use a clever space-saving trick, simply by mounting the faucets directly to the wall. This trend looks especially stylish in brass and black finishes, against white tile or colored walls.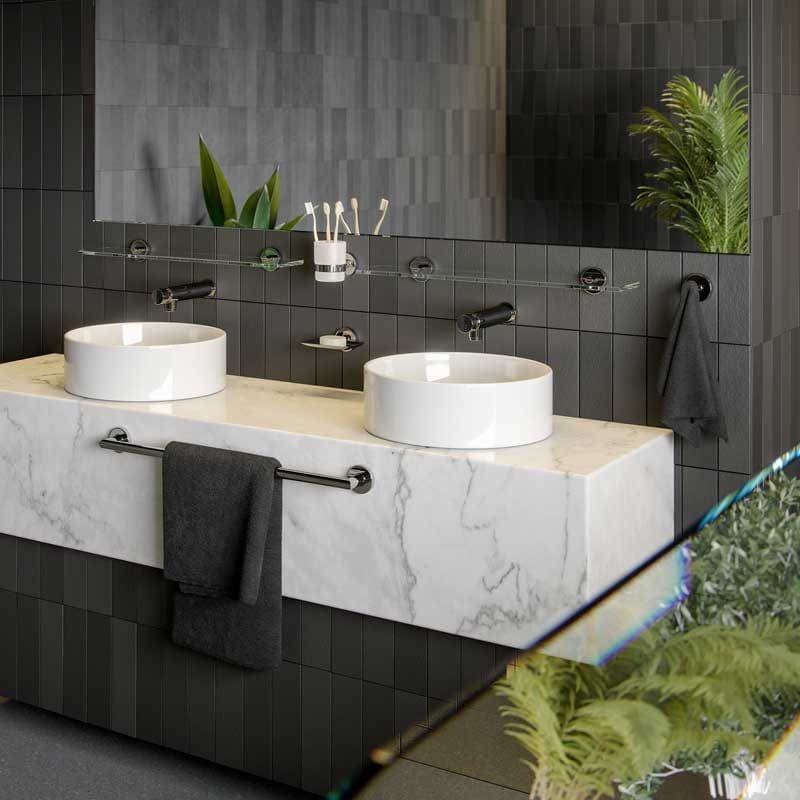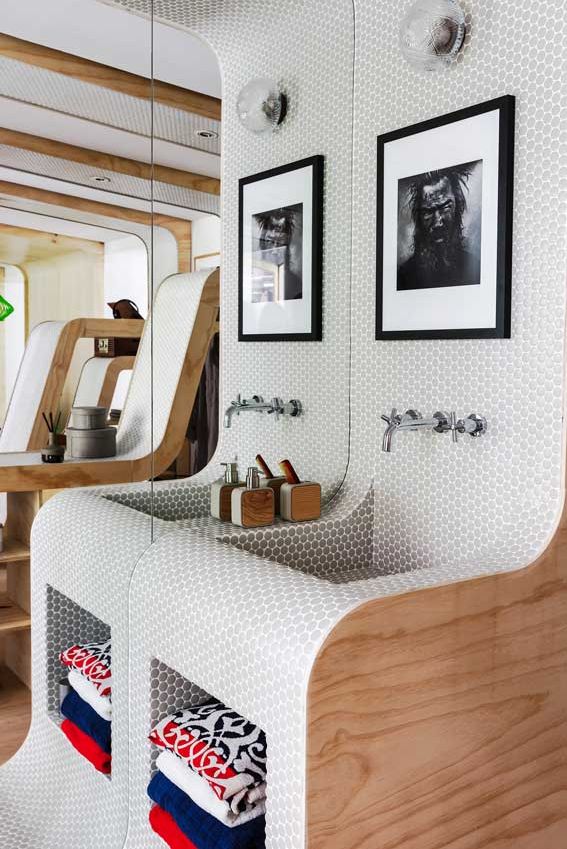 longitudinal mirror
Mirrors are one of the most used tricks in decoration to optically enlarge spaces. When the bathroom is small, a longitudinal mirror can double the feeling of space.
Round mirrors
Mirrors are a must, and this year the trend is round and as big as it can fit on the wall. You can go rustic or glam depending on whether you prefer to frame them or leave them natural. Either way, they manage to make the space feel much more glamorous than their boxy counterparts.
4. Colors for small bathrooms
bright colors
Colors play a fundamental role if what you are looking for is to create a feeling of spaciousness in your bathroom. Light colors are one of the best allies that we will be able to find for this task, since they have the gift of moving the walls away from the receiver. If you combine them with vibrant colors, you will surely achieve a revitalizing and pleasant space, as you can see in the photo below. However, it should be noted that modern bathrooms are mainly characterized by using a neutral color palette, that is: beige and natural wood, white, gray...
Neutral colors
The pastel color, earth or neutral colors in tones clear help to generate the feeling of greater space. The same with the ground, we from Facades World personally we recommend a light color, with a bath mat in a soft, light color as well. You can add touches of color in the accessories, such as a toilet lid, a row of colored ceramic tiles, etc.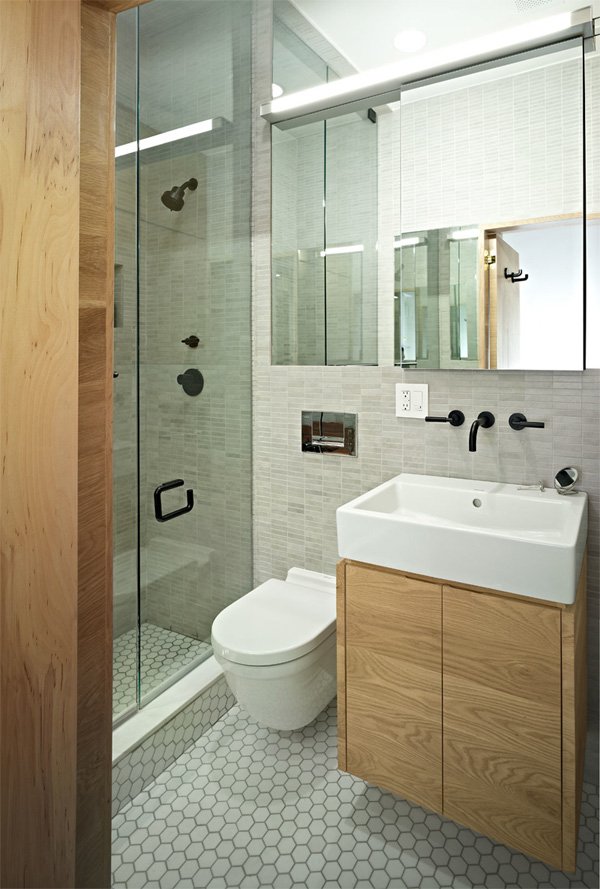 Dark walls
This is another trend.: use a very dark color on one of the bathroom walls. Contrast it with natural textures, like a jute rug and a wood-framed mirror, and you'll have a space that will never go out of style.
5. Lighting of small bathrooms
In order to successfully complete this type of decor, you must incorporate a good luminaire. It should not be dim, but very bright, adequately reflecting light walls and pops of vibrant color. Remember that dark walls and objects tend to create the effect of approaching, and what is sought is to move away the walls and all the elements that are part of the decoration.
Natural light is always best, otherwise you can apply lights that illuminate a large part of the bathroom, aiming specific lamps at different points of interest, such as the mirror in front of the sink.
6. Small bathrooms with shower
A small shower can leave space to place the toilet, this will help make the most of the space. They can be showers with full glass doors if you prefer, which will help create a feeling of more space.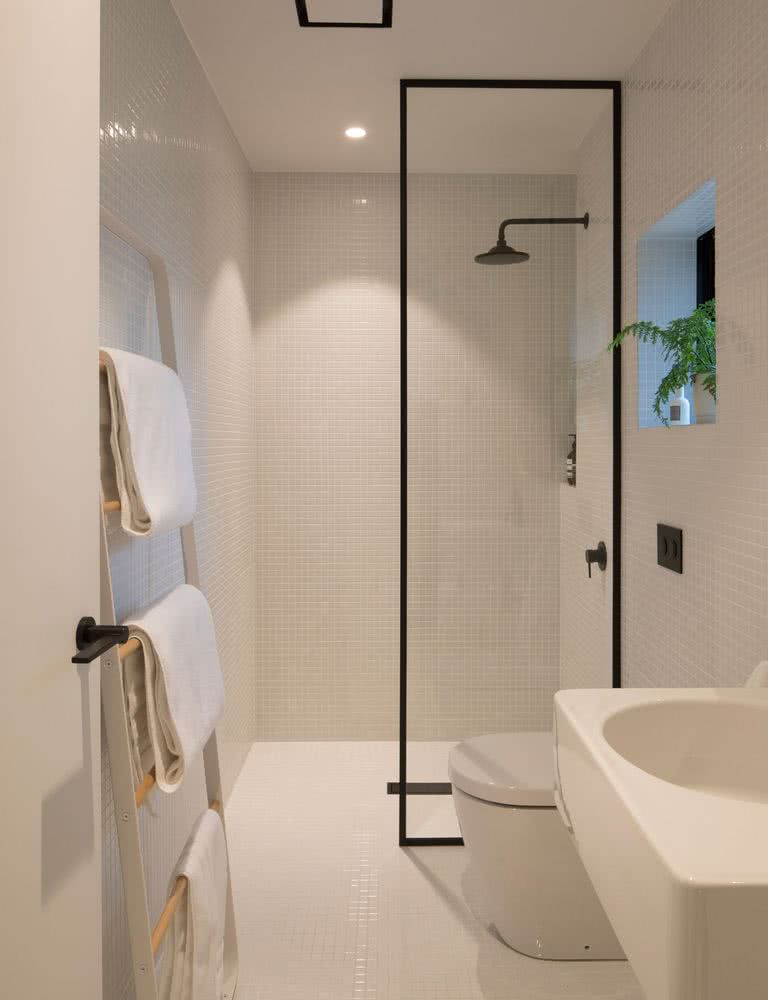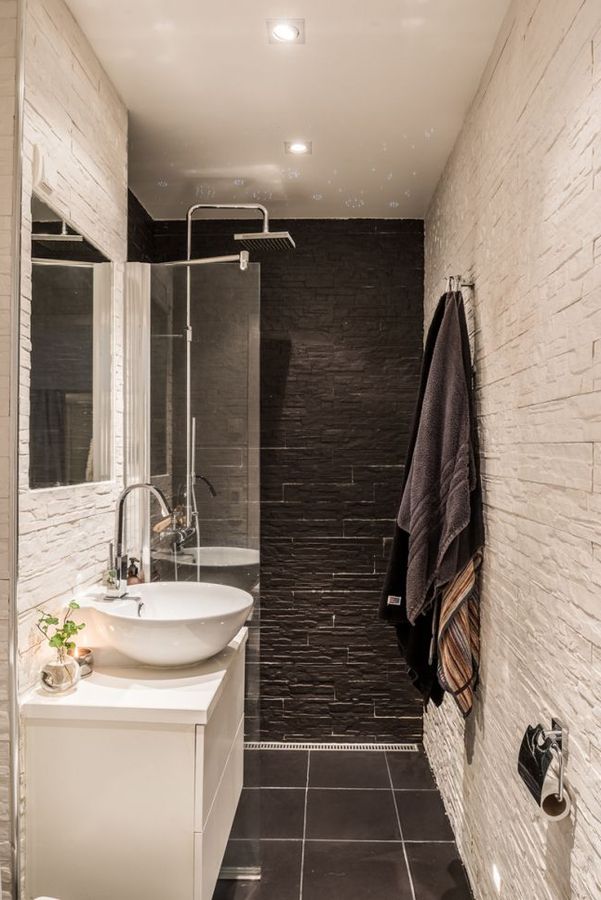 7. Small bathrooms with shower trays
As we have been mentioning throughout this article, the use of space when it is reduced is essential. There is no need to rush and you have to design the location of each element well, then once installed, wanting to change it is complicated, expensive and tedious, so you must be smart and make good decisions.
8. Small bathrooms with a bathtub
The idea that those who have a small bathroom cannot have a nice, cozy bathroom or a good bathtub is not correct. The Techniques for the good management of space in bathroom decoration exist and we must take advantage of them. Look below where we leave you some images that show that it is possible.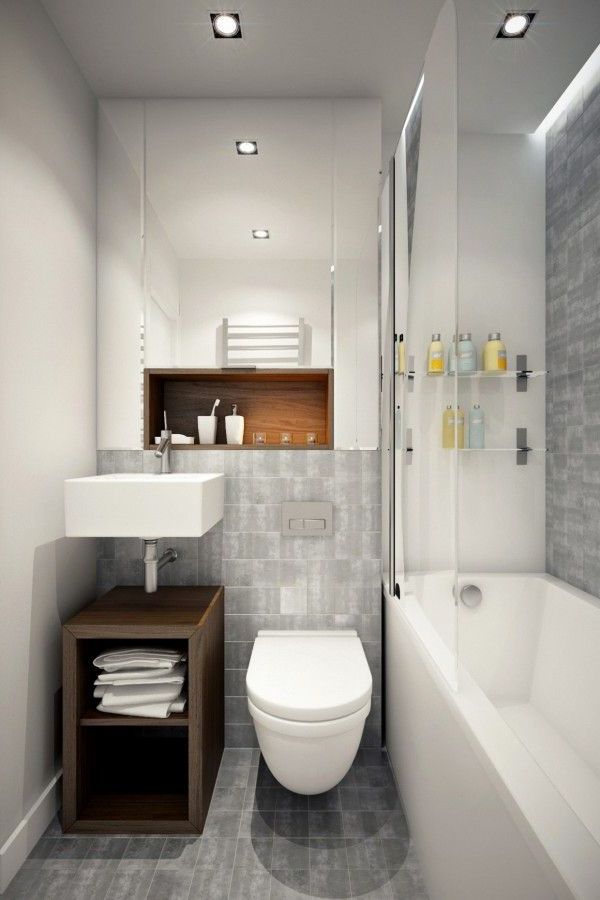 Join Facades World! 🙂
Follow Facades World on Facebook | Pinterest | Youtube
Regards!