Many times being inside our house we begin to look around and feel that something is missing, something that gives a distinctive touch to those corners that need it. This is where the use of modern floor lamps, which will give you a plus of lighting and style, just what you need. So stay here Facades World We are sure that what comes next you will love it.
Lighting is one of the keys that help you have a cozy home where you feel comfortable. However, it is usually one of the aspects that they overlook. Poorly lit spaces, over time, become a real headache. The modern floor lamps they are an aesthetic and practical resource to take into account.
Modern floor lamps for living room
One of the most used tricks is to use several points of light, that is, ceiling lamps, table lamps, indirect lights, modern floor lamps for living room, luminous garlands... Anything goes! The important thing is that you can create the ideal environment in your home.
To achieve good lighting at home, the first thing is to plan the spaces well. With this, we refer to taking into account the activity that is carried out in each roomOnly then can we design different areas and corners and give them the right light. You do not need the same intensity in the kitchen as in the bedroom, so you will have to choose well and think that modern floor lamps for living room or for the house itself they suit you.
For example, in the living room a dimmer switch would be a definitive element to transform it into a quiet reading room or a space in which to hold a meeting with friends.
Another important detail is to define the temperature of the light: cold or warm. Surely it has happened to you to enter a house and feel unwelcoming, as if it were the dentist's waiting room, right? It is due to the color of the light as it plays a fundamental role in the setting. With the wrong light bulb, the entire decoration can be affected.
Modern floor lamps, the best resource
At this point you already know that a room is not illuminated only with a point of light, since it must have a circuit capable of lighting it completely. Taking this into account, one of the best resources to set a room is through several spotlights that coexist with each other: modern floor lamps for living room, table and some apply as the case may be.
In this way, it will not always be necessary for you to turn on the ceiling light if it is too bright and you are just looking for a moment of relaxation. On the way you can reduce the electricity bill and play much more with the intention you want to set for each moment and for each area of ​​your house. As if this were not enough, there are true works of art in the form of floor lamps.
Modern and cheap floor lamps
You can have soft lighting and create a warm and cozy atmosphere thanks to this bamboo lamp that has been braided by a skilled craftsman, which makes each one unique and special. It is the Ikea KNIXHULT lamp and they say that they use parts of the bamboo that are generally discarded to get the most out of this raw material. For more Ikea furniture like this, you can give click here.
Floor lamps for the most modern
If yours is a passion for industrial details, the Maisons du Monde Louna lamp will fascinate you. It has a curved structure that fits wonderfully into any space. Its simple and modern black braided ball shade creates a cozy and peaceful atmosphere. Also, it is ideal for exterior decoration if you are looking to create a chill out space.
The floor lamps They give a lot of play when it comes to decorating any of your spaces, don't you think? They give a point of soft and subtle light, they are pretty and complement some corners that are difficult to decorate. Find the material that best suits your style and enjoy its charm.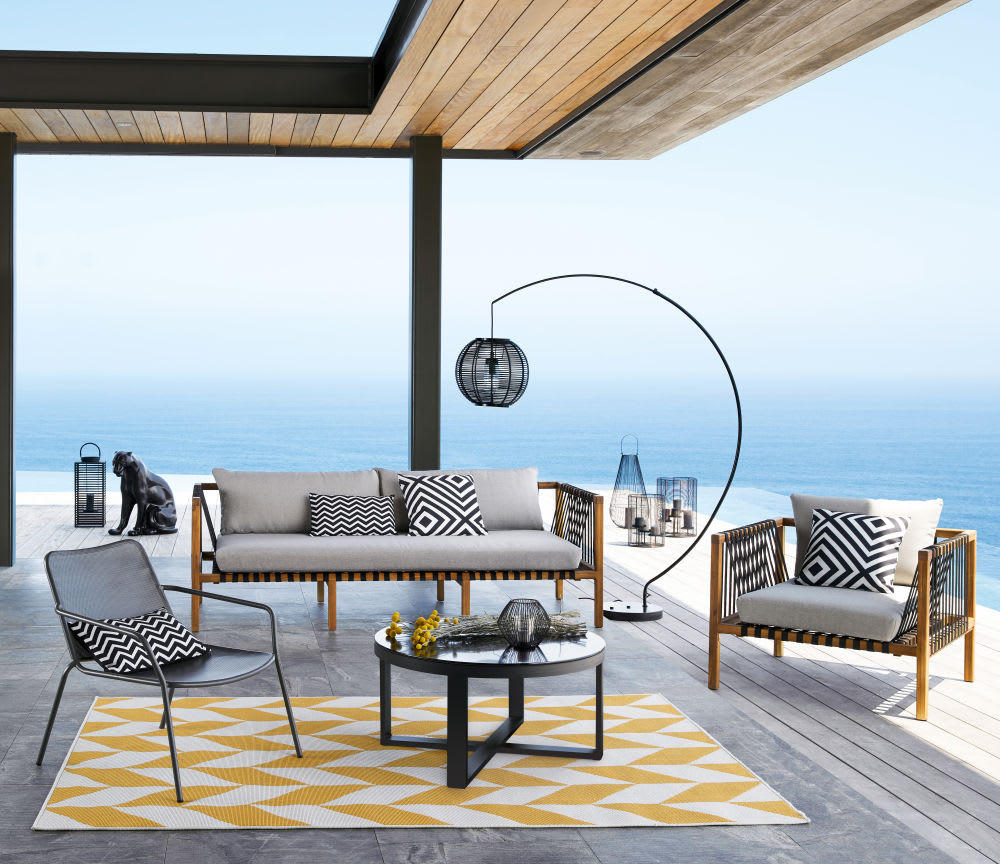 Join Facades World! 🙂
Follow Facades World on Facebook | Pinterest | Youtube
Regards!