Wood kitchens gained huge popularity in the 1980s, and since then wood has continued to be used in virtually every kitchen in the world. This is because this material is very versatile, resistant and durable. Today in Facades World we will show you different designs of wooden kitchens so that you can select the one you like the most and implement it in your home.
wooden kitchens
Kitchen furniture made of wood adapts to all styles of decoration and design, whether it is a modern house or a rustic country house. Whether using elegant mahogany wood or old reclaimed wood, the effect is the same: a warm and welcoming space you will never want to leave. The classic and attractive appearance of wood is not the only benefit. This noble material will probably last for many years, so pay close attention to these designs of wooden kitchens what we have for you
Modern wooden kitchens
Natural materials and warm finishes are one of the trends in modern kitchens by 2022. Thanks in part to the popularity of the Minimalism, one of the ways we see this trend of using natural materials, is in simple wooden cabinets, without decorations. The minimalist look of this furniture, which highlights the warmth of raw wood, goes well with the elegant style we expect in contemporary kitchens.
You will have to be very careful with the tones you use, because they can spoil the space. It sounds harsh, but it is so. Usually the wooden furniture They stand out very well accompanied by a flat and you look in lighter tones.
Rustic wooden kitchens
Rustic kitchens have a very cozy look that their minimalist and modern counterparts don't. A rustic kitchen Classic may have a white ceramic sink. You can also have cabinets and furniture in wood (in a lacquer finish or painted in color), including dressers and pantries. A farmhouse table with a nice set of sturdy chairs to match. They may also include kitchen islands.
Integral wood kitchens
One of the latest innovative trends in modern kitchens are the integral ones. Surely many people do not fully understand the difference with other types of kitchens. The answer is very simple and can be found in the furniture and appliances that make up this design.
The basic characteristic of the integral kitchen is that it follows the same line of design, from an aesthetic point of view. This means that furniture and appliances compose perfect shapes without protruding edges. In most cases, appliances are integrated into the furniture itself. You can also find kitchens with furniture integrated directly into the wall.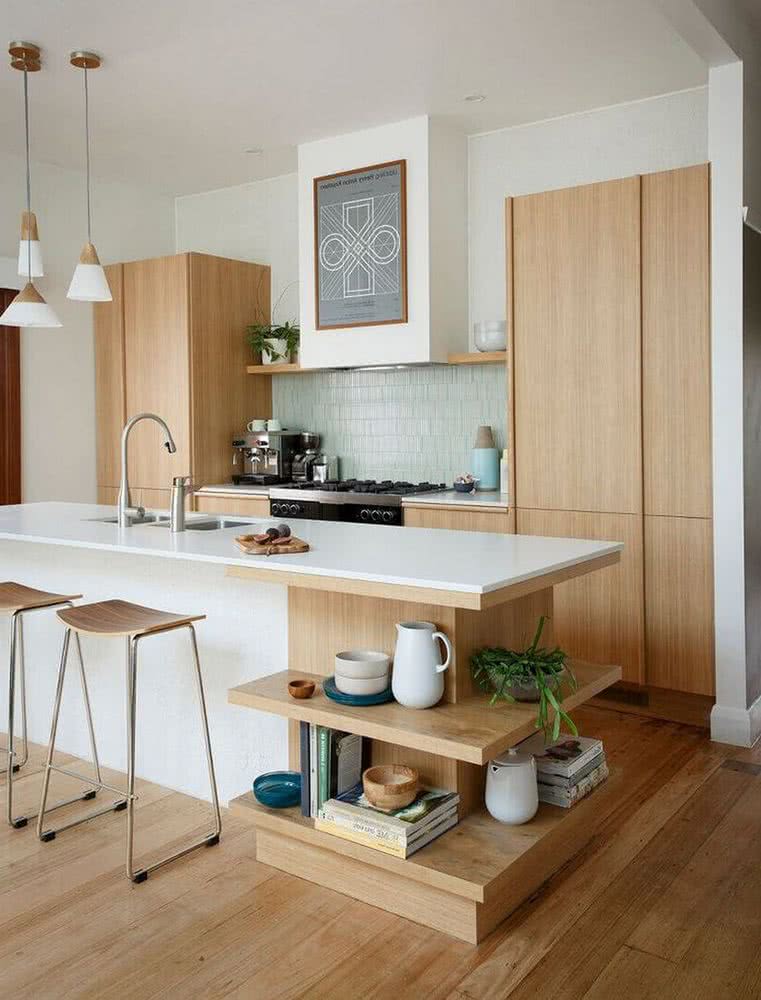 This trend is marked by another decorative detail that refers especially to the doors of furniture and appliances. The design of both is very similar or the same and in this way the decorations and colors merge, without any highlights or differences.
In turn, the modern element can be intensified with cabinet doors and appliances in the same design. In this way, at first glance, the appliances merge with the furniture.
Advantages of integrated kitchens
The main advantage of these kitchens is that it increases the interior space. The appliances are built into the furniture, so we don't have to worry about where to put them. In addition, there are also no empty spaces between the furniture.
Another advantage is that it opens up to the horizon when we are in front of a kitchen of this type, especially kitchens that are not separated from the dining room or living room.
These kitchens make up a space that is not only larger, but also cleaner and tidier.
Disadvantages of integrated kitchens
The main disadvantage of these kitchens is their price, since in reality we pay more money for something that does not guarantee a longer life for the appliances, nor a higher performance. The only thing that guarantees us is a more modern and elegant interior.
White and wood kitchens
White is one of the best colors to accompany wood, as it highlights and emphasizes the natural beauty of this noble material. In this charming space, with independent storage units in white, the worktop made of wood stands out, and the upper cabinet with glass doors, which reveal the beautiful crockery.
Rustic shades of earthy brown are used to give this kitchen a cozy feel. Pretty plants bring the outdoors in, neatly lined up on the windowsill. White painted cabinets and walls maintain the light feel of the room. They combine with warm wooden countertops and aged vintage details.
Kitchens with wooden countertops
Simplicity is often the key to an impressive kitchen. Both dark and light wood countertops can achieve a balanced and stunning design. Here, the kitchen island countertop is a perfect partner for the open shelving, kitchen door and table made of the same material. Neutral walls match cabinets and a traditional double ceramic sink. The curtain under the sink is a wonderfully simple retro touch.
Even if your kitchen isn't rustic, it's possible to introduce a country feel with a wood-topped center island. In this white and natural wood kitchen, an island with a natural wood countertop is a stunning focal point that instantly turns the space into a country kitchen.
Join Facades World! 🙂
Follow Facades World on Facebook | Pinterest |
Regards!