Today Facades World we will present you some ideas of colors for bedrooms, very consistent with the latest current trends in decoration. They are ideal for achieving the room we want or are looking for, in the place that most represents us. So do not take off the screen because we are starting with this new informative article for you right now.
Based on the predictions of some companies such as Sherwin Williams, Pantone or Behr, in addition to the trends of renowned interior designers, we are going to share with you different ideas of colors for bedrooms, as como también relaxing colors for bedrooms. You will be able to paint and combine your decoration in this 2022 along with everything that we will talk about next... let's see.
Colors for bedrooms - What do the professionals say?
Light pink
Light pink is still used, and other very pale and delicate shades of pink, some subtly mixed with a little gray to acquire relaxing colors for bedrooms.
Pink stick
This color looks great accompanied by white, gray or beige.
Fuchsia
A more intense pink, almost fuchsia, can be used as an accent on one of the bedroom walls.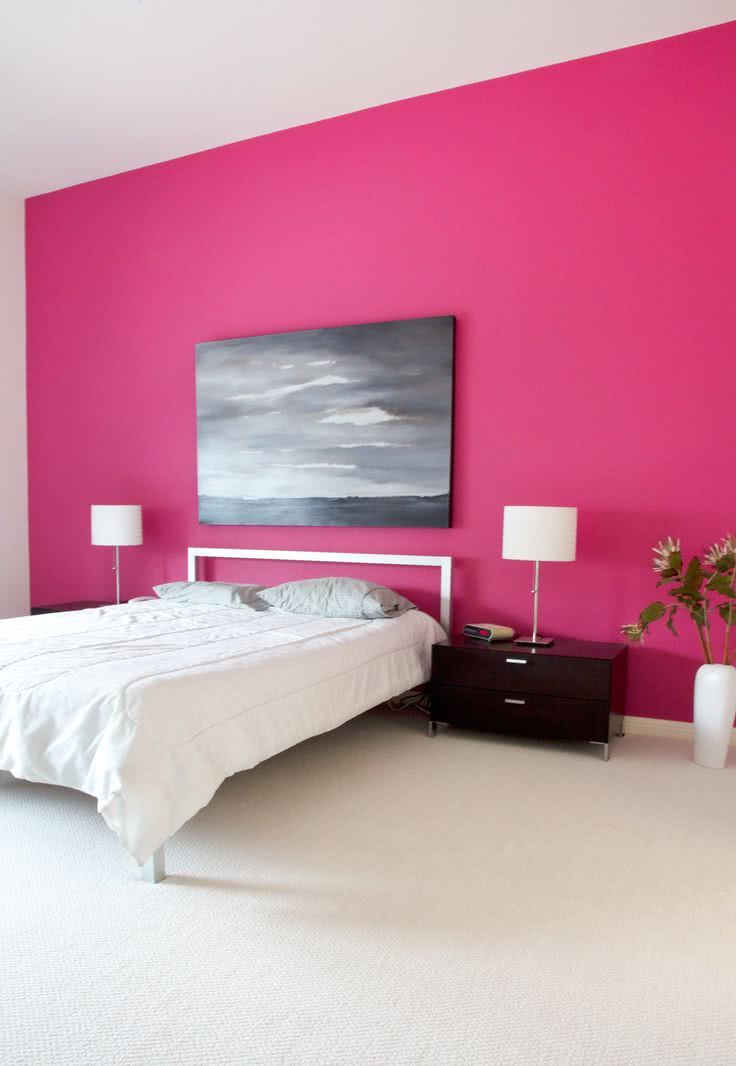 prussian blue
Subdued blues, a little grayish, will be used a lot this year. Pastel blues also take on an important role in bedrooms.
Navy blue
This shade of deep blue, which transmits so much calm, is also another of the possibilities of colors for bedrooms. Accompanied by white and gold details, it can look very elegant.
Light blue
This pale shade of blue can be accompanied with different shades of beige, white and black details.
teal greens
The greens that are close to blue will also be another of the alternatives used. Blues and greens are considered good colors for bedroom walls., as they have a calming effect. A calming mural can provide the perfect backdrop to aid imagination, while the right accessories keep the space from looking sterile and boring… relaxing colors for bedrooms that will give you a lot of calm.
Dark grays
You can take advantage of all shades of gray, even the darkest. Both warm and cooler grays are being used.
Light grays
Different shades of gray can be used to give depth and light darks to the room.
Lemon yellow
Sunny yellows are also another of the proposals for this year.
Yellow mustard
This color is being used especially in accessories, as in this case, a quilt.
pumpkin orange
It can be used to paint one of the walls, to give life to the bedroom, without overwhelming it.
white bedrooms
Un white bedroom It has been the key season after season for a sure success without too much effort, since these are elegant, fresh, eternally modern and above all welcoming. within the colors for modern bedrooms we can say that white is ahead, and also, it seems more spacious in the room.
As you will see, it is one of the simplest ways that we can find to give life to elegant bedrooms, since simply by choosing to paint our walls and furniture in this color, we will be achieving a large part of our mission.
It is a good idea to also add curtains, bedding and cushions in different shades of white. Opting for delicate embroidery can also be an excellent idea to add a share of romance and style to these spaces.
Opt for Bedrooms This color can also be an excellent idea if our room is small or dimly lit, since white has the property of making spaces look larger and brighter.
earthy beige
These shades are a classic that will never go out of style.
Relaxing and warm color combination for bedrooms
One of the best ways to feel fully is to start with a type of decoration that makes us feel that way. Thus, all types of decoration with a great charge of positive energy can have a favorable effect on our mood. And one of the most effective ways to achieve this is to start betting on a warm color scheme for bedroom.
red and grays
One of the examples that is 100% effective is the incorporation of various shades of red in contrast to neutral shades such as white, gray and brown. Since the warmth of some combined with the coldness of the others results in one of the most harmonious and beautiful spaces that we can achieve.
pinks and gray
The immense variety of roses that we find in the rich color palette available, combined with different shades of gray, also recreates beautiful, warm and very feminine spaces.
orange and gray
Beautiful and elegant bedrooms can be recreated if the warmth of orange is combined with the neutrality and sophistication of white, gray and black.
Yellow and orange
Bold yellows and oranges can also be deliciously combined with greens and greys, thus giving us one of the warmest proposals of all.
purple and cream
Purple is another one of those colors with a lot to offer, since its rich variety of shades are super refined and can be successfully combined with brown and/or beige to give us a style that possesses great harmony and warmth.
Cool color scheme for bedrooms
Blue and green are undoubtedly some of the most beautiful and versatile colors that the color palette offers us, so it is always a good idea to take them into account when decorating; so much so that there are several bedroom combinations that include it. Below we invite you to discover some of the most beautiful combinations, as well as colors for women's bedrooms.
lime green and blues
The strength that characterizes green is so great that we can easily benefit from combining different shades of it, although if we are looking for a fresher and more relaxing proposal, we can ideally incorporate it with green and white.
sky blue and orange
Blue with orange, in addition to being one of the most audacious combinations in which we can include it, is undoubtedly one of the most popular in modern decoration.
light blue and brown
If we seek to give blue an image of the retro style, it is a good idea to opt for a strong color within it and combine it with chocolate brown.
Blue and yellow
The most intense shades of blue give very good results if they are also combined with grays and a note of yellow.
Light blue and gray
Gray is a color that is undoubtedly associated with elegance, while blue is one of the most calming colors for decoration that we can find in the wide range of colors available. That is why the modern decor for bedrooms He proposes them as a combined trend, increasingly, since they perfectly recreate elegant and relaxing spaces at the same time; so much so that one of the best formulas to give life to rooms as special as the bedroom is created.
Blue also, thanks to its enormous number of nuances, can also be chosen between rather cold tones or vibrant and luminous tones, the latter can be excellent allies for a touch of luminosity in these spaces.
We hope and wish that these color ideas for bedrooms are to your liking and we read you in comments. Greetings from Facades World.
Join Facades World! 🙂
Follow Facades World on Facebook | Pinterest | Youtube
Regards!